Productivity Apps: the 7 best for Marketers
Working in Marketing usually means multitasking: you're required to update content, track results, and manage contacts on a daily basis. While that might be tricky, technology is continually evolving to work on our behalf, and with that in mind, we've selected the top 7 productivity apps marketers should be using right now.
Also read: the 10 best apps for Sales Teams
Best apps for Marketers:
Want to know what the internet is saying about your brand? Mention helps you out.
Mention is a free app that manages your online presence: monitor the most relevant mentions of your company, brand, or even your competitors. Mention will send you real-time updates, so you don't miss out on valuable online interactions.
Nimble allows you to create better, stronger connections.
Nimble unifies your CRM information, by combining your phone contacts and calendar with their people and company insights. Get instant intel on customers, push notifications before meetings and receive reminders to write follow-up notes after they end. Nimble makes CRM more social, practical and dynamic.
Manage your email marketing campaigns on the go with Mailchimp.
Familiar with good, old Mailchimp? This app will make your e-mail marketing strategy even easier. Create a campaign on your desktop and send it from a mobile device. You can also manage lists, add new subscribers and view reports.
Kast can make your internal communication easier and more efficient, without compromising data integrity.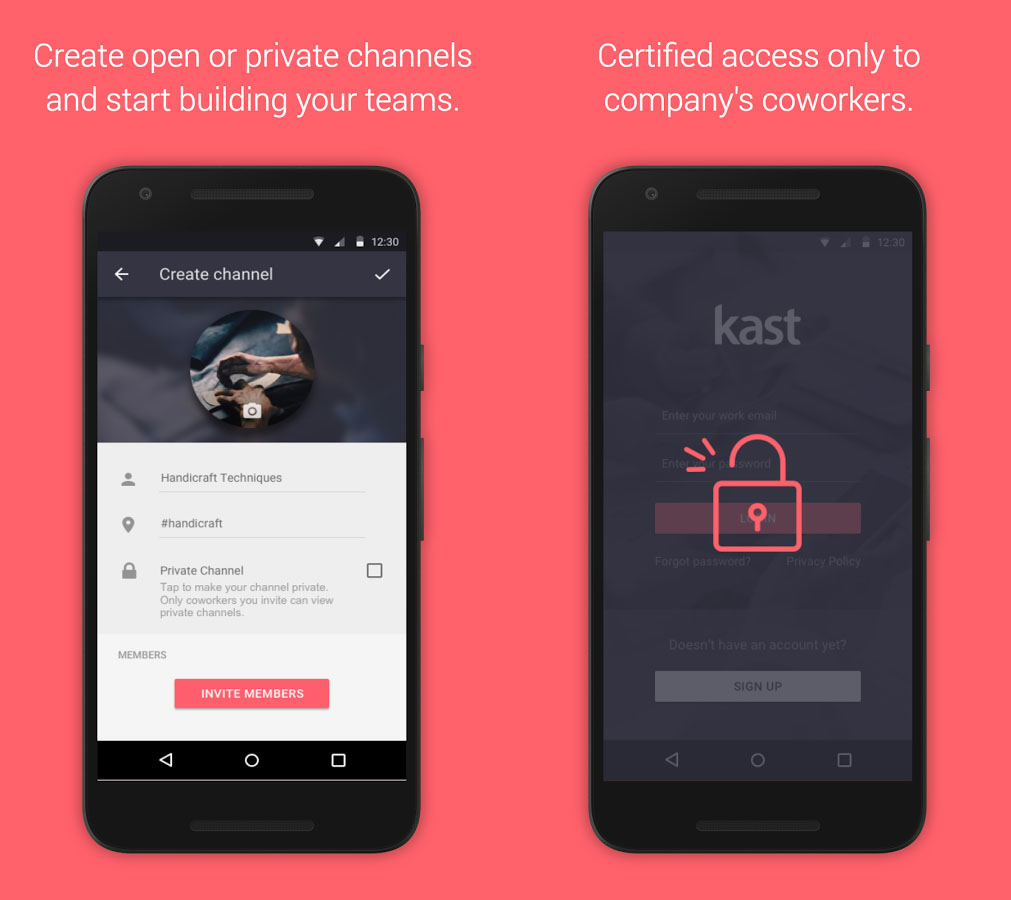 Kast is the ultimate tool to connect different teams in the workplace: using a mobile-first platform and communicating through audio and video, making collaboration faster and more dynamic. Sales and Marketing teams will especially find Kast app useful to create communication channels and give real-time market feedback. All it takes is your corporate email to be automatically grouped with coworkers. Easy, peasy, lemon squeezy.
Use Buffer app to share your content everywhere, anytime, all from one place.
Buffer is a free app that allows you to post on social networks (Twitter, Facebook, Google+, Instagram, Pinterest and LinkedIn), whether it's a link, text, picture or video. Updates can be automatically scheduled, or customized through the app. Need to manage and track social media? Buffer eases that process for you while producing helpful analytics for each update.
Adwords lets you monitor your ad campaigns.
This free Google app wants your job to be simpler: once you've created an ad campaign, use Adwords app to track its results. View ad stats, update budgets and get real-time notifications on the go.
Analytics will, well, help you with the Analytics.
Google's Analytics free app helps monitor your business on the go. Check real-time data, key metrics in built-in reports and follow numbers whenever you need.
Do you use the apps featured on our list? Do you use others? Let us know!